Features
Professional sound design
A studio-quality, 96 kHz/64-bit digital signal processor uses enhanced dithering technology and a low-jitter clock to deliver a warm, natural analog sound. Analogue noise is reduced through improved pre-amp and output circuits too.
USB sound card
A built-in USB sound card allows simultaneous input/output of stereo signals from 4 ins and 5 outs, while 96 kHz/24-bit high-sampling processing ensures the audio quality. Connect the unit to your laptop or computer via USB and the settings utility tool will automatically open, allowing you to configure the mixer, sound card and audio routing to suit your preferences.
Sound Color FX
6 studio-quality sound FX - Sweep, Filter, Crush, Dub Echo, Noise and Space - are available on every channel. Use the parameter control knob to fine-tune the FX.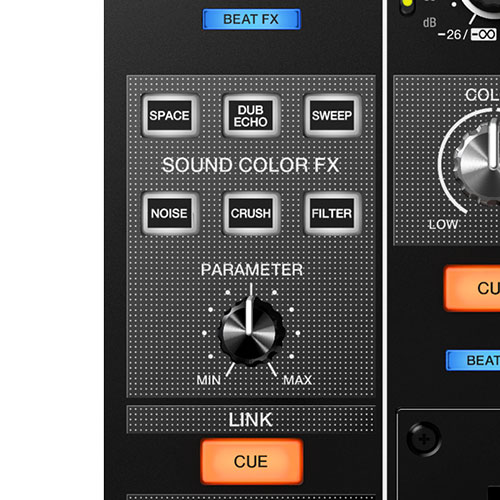 Beat FX
Use the large X-Pad to engage 14 different types of Beat FX and adjust the parameters with just one finger. A high-res OLED display instantly shows you which FX are in play.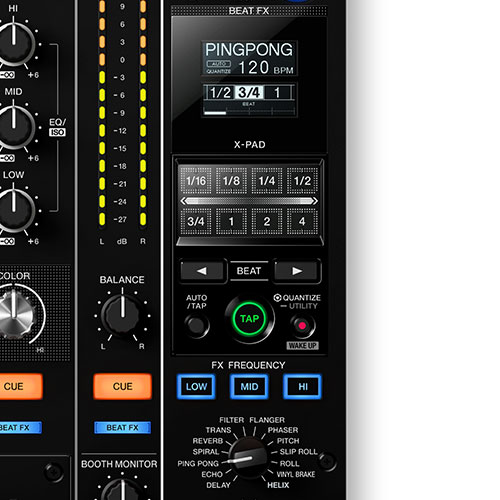 FX Frequency
Choose which frequency range you want to apply FX to. You can add echo to the vocals, for example, or double the rhythm of hi-hat with the touch of a button.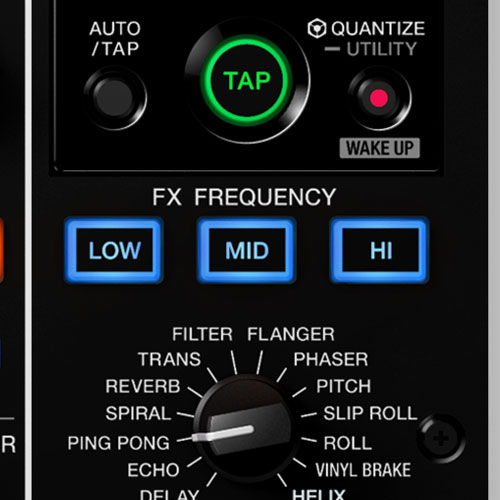 Independent Send/Return
Use built-in FX and an external FX unit at the same time. Simply connect external hardware via Aux or your iPhone/iPad via USB to engage instrument and FX apps - try it with the RMX-1000 for iPad, or DJM-REC.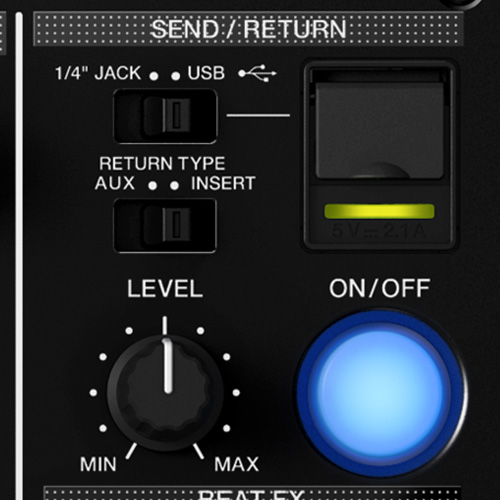 Advanced connectivity
Use Pro DJ Link to connect up to 4 players and share one source, see detailed rekordbox information and unlock a number of advanced features including Quantize. You can also connect a PC/Mac with just one USB cable to control rekordbox and other DJ software with all 4 players.

Robust faders
Our robust Magvel Faders ensure smooth control over long-term use. Two metal shafts support the fader knobs, while the contact-free magnetic system is designed to endure millions of performances.

Smoother mixing
Use the improved EQ to balance the high, mid, and low frequencies on every channel. Choose your preferred channel fader curve pattern for the perfect mix.

Clip display
We've redesigned the clip indicator's gain structure to ensure your meters don't go into the red too early.

Multiple inputs
2 USB ports and a top-loaded A/B switcher let you hook-up 2 laptops for seamless DJ transitions. 4 Phono inputs allow you to connect a turntable to each channel.

Quality connections
Gold-plated RCA terminals provide premium sound quality, while the large GND signal terminal lets you easily connect the ground wires from analogue players.
rekordbox dvs
When you use our
 

rekordbox dj

 

DJ software, you can buy the

 

rekordbox dvs

 

Plus Pack to get low latency scratch control with music from your rekordbox library.
RMX-1000 for iPad
Plug in your iPad, engage the RMX-1000 for iPad, and trigger FX and pre-assigned samples to build up and break down tracks in sync with the beat.
TRAKTOR DVS control
This mixer supports DVS control of Native Instruments'
 

TRAKTOR PRO 3

 

DJ software. Plug your PC/Mac into this unit and use the TRAKTOR SCRATCH control media (control vinyl or CDs) to intuitively control and scratch with digital audio files stored on your computer.
Find out more about the

 

Pioneer DJ Certified program.
Serato DJ Pro
This mixer supports DVS control of
 

Serato DJ Pro

 

software. Plug your PC/Mac into the unit and use the Serato DJ Pro control media – control vinyl or CDs – to intuitively control and scratch with digital audio files stored on your computer. Find out more about the

 

Pioneer DJ certified program.
*To use DVS control, you'll need to buy Serato DJ Pro and the Serato DVS Expansion Pack.
DJM-REC
Compatible with the
 

DJM-REC

 

app, you can efficiently record then easily archive your mixes via iPhone or iPad, upload your sounds to cloud services or effortlessly live-stream your sessions.