Features DDJ-REV5
Large jog wheels and MAGVEL FADER for dynamic scratching
The large jog wheels are responsive, reliable, and easy to operate – with a feel just like those on classic CDJ units – and they each include a display with playhead position so you'll always know where you are in the track. You can also customize the Jog Feel to find your perfect jog wheel "weight". The MAGVEL FADER is slick, robust, and ready to translate every tiny movement you make so you can scratch with precision.
Scratch-style layout for open-format freedom
The long tempo sliders on the DDJ-REV5 run horizontally above the deck sections while the Performance Pads and Lever FX are placed in the mixer section for dynamic performances, emulating the PLX Series deck + DJM-S Series mixer setups loved by open-format DJs around the world. Thanks to the proximity of the pads, levers, and faders, you can fuse scratching with pad play and effects.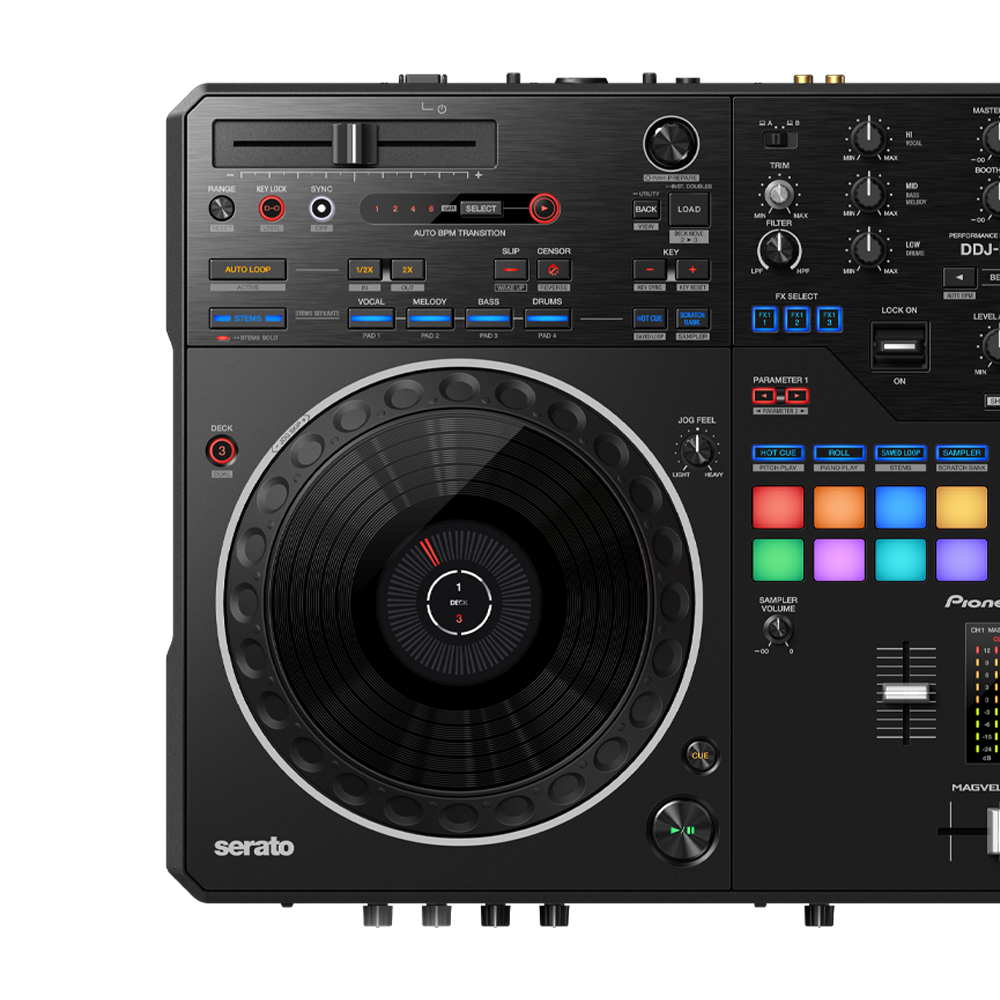 Dedicated buttons for easy Stems control
Easily make live mashups and remixes using the Stems buttons on the DDJ-REV5. Your tracks will be split into Stems within the software – vocals, melody, bass, and drums in Serato DJ Pro, or vocal, drums, and inst (other instruments including bass and synths) in rekordbox – which you can play separately.

Stems Mute/Solo
Solo or mute the different Stems to create your own mashups on the fly.
Stems Separate
Isolate different Stems of a track on separate decks to make live remixes.
Stems Level
Use the EQ knobs to adjust the volume for separate Stems.
You can use the different Stems in combination with Deck Move, so it's easy to make and control multiple live mashups and remixes at once.
Instant Scratch: Rapidly fire samples with dedicated buttons
The DDJ-REV7 has 4 original scratch samples that you can trigger by pressing the corresponding hardware buttons. Because the sounds are built in, you can fire them at any time – even if the controller isn't connected to your laptop. If you want to use your own samples in your set, you can instantly load scratch samples from 4 banks that you've assigned in Serato DJ Pro with the Scratch Bank feature.
Your browser does not support our video.
MAGVEL FADER PRO: Scratch freely
Scratch with style and confidence when you use the MAGVEL FADER PRO. As well as being highly robust, it's customizable with various settings to help you find the feel that's right for you.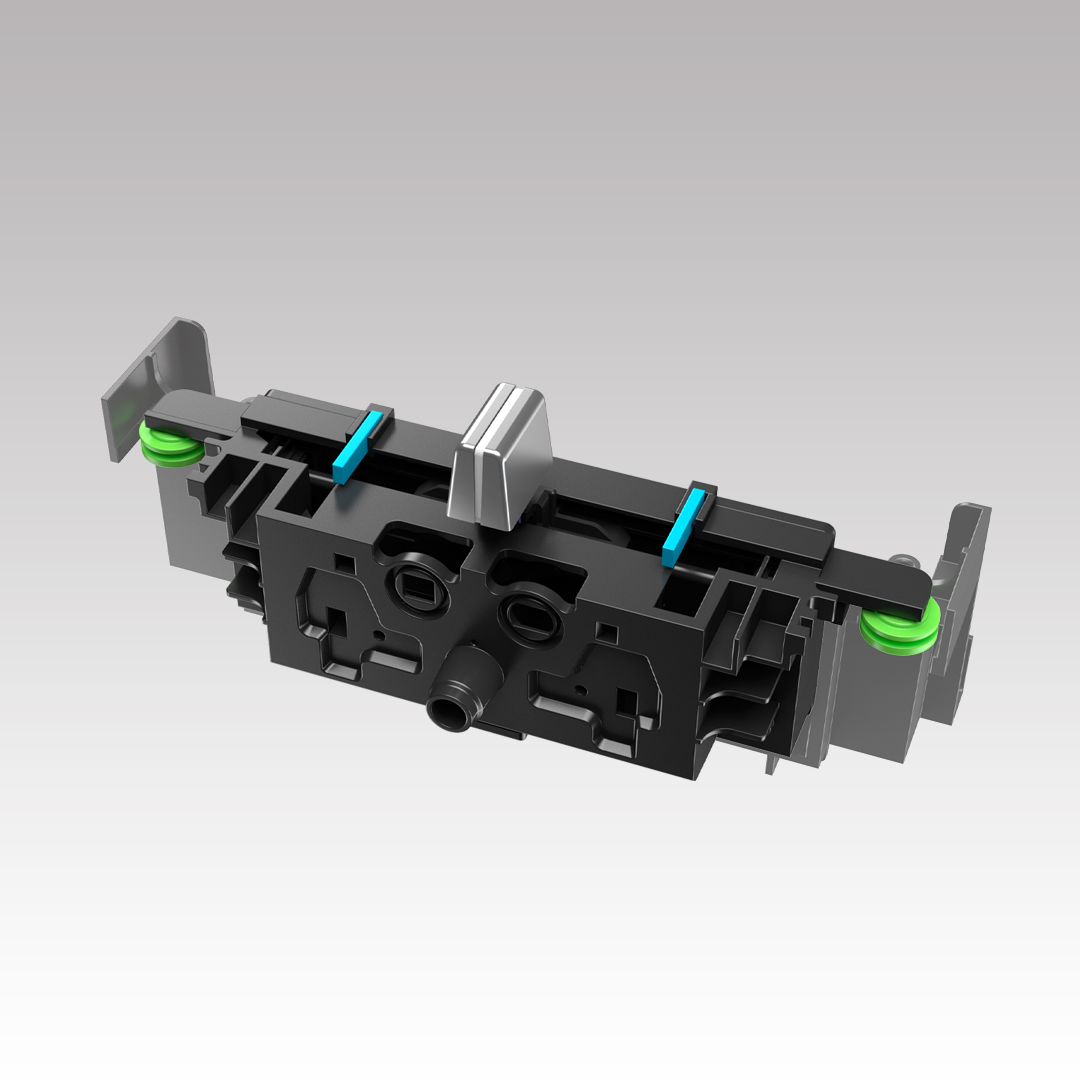 22 built-in Beat FX including 3 new additions: Dynamically change the sound
Add drama to your track transitions with the 3 brand-new Beat FX. In total there are 22 Beat FX which you can trigger with the dedicated controls (New Beat FX: Duck Down, Fill Out and Helix Out).
You can also pull the effects levers down and hold them to apply effects from Serato DJ Pro in short bursts, or push them up to lock effects on and free up your hands for scratching or track browsing.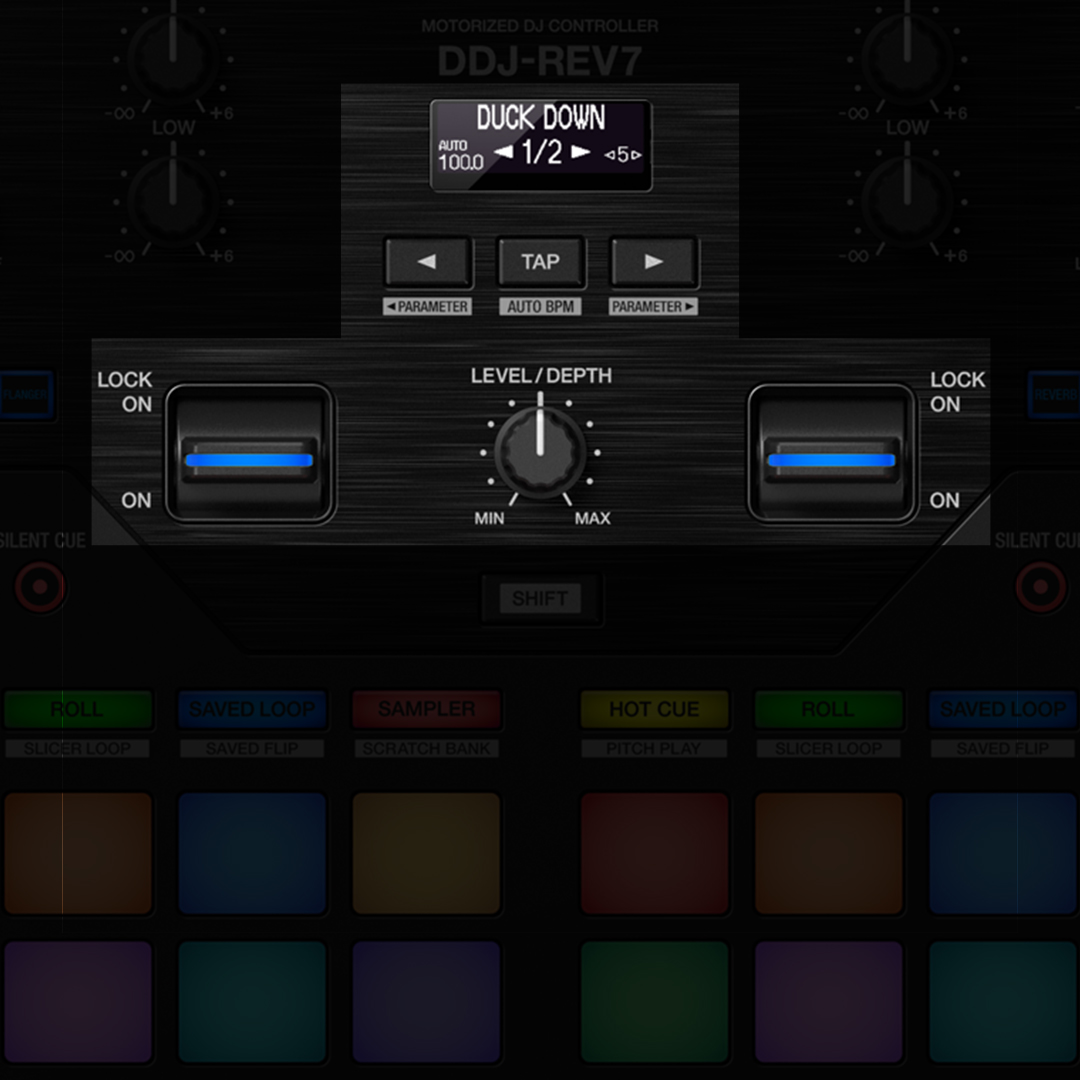 Portable, sophisticated design: Take your performances anywhere
The DDJ-REV7 is solid and robust, yet still lightweight enough to grab by the handles on the chassis and carry to your next gig. Contrasting matte and hairline finishing in different sections of the aluminum top plate create distinction between the deck and mixer sections, so the layout looks like a traditional 2 x turntable + mixer setup, while the On Jog Displays mimic the label in the center of a vinyl record.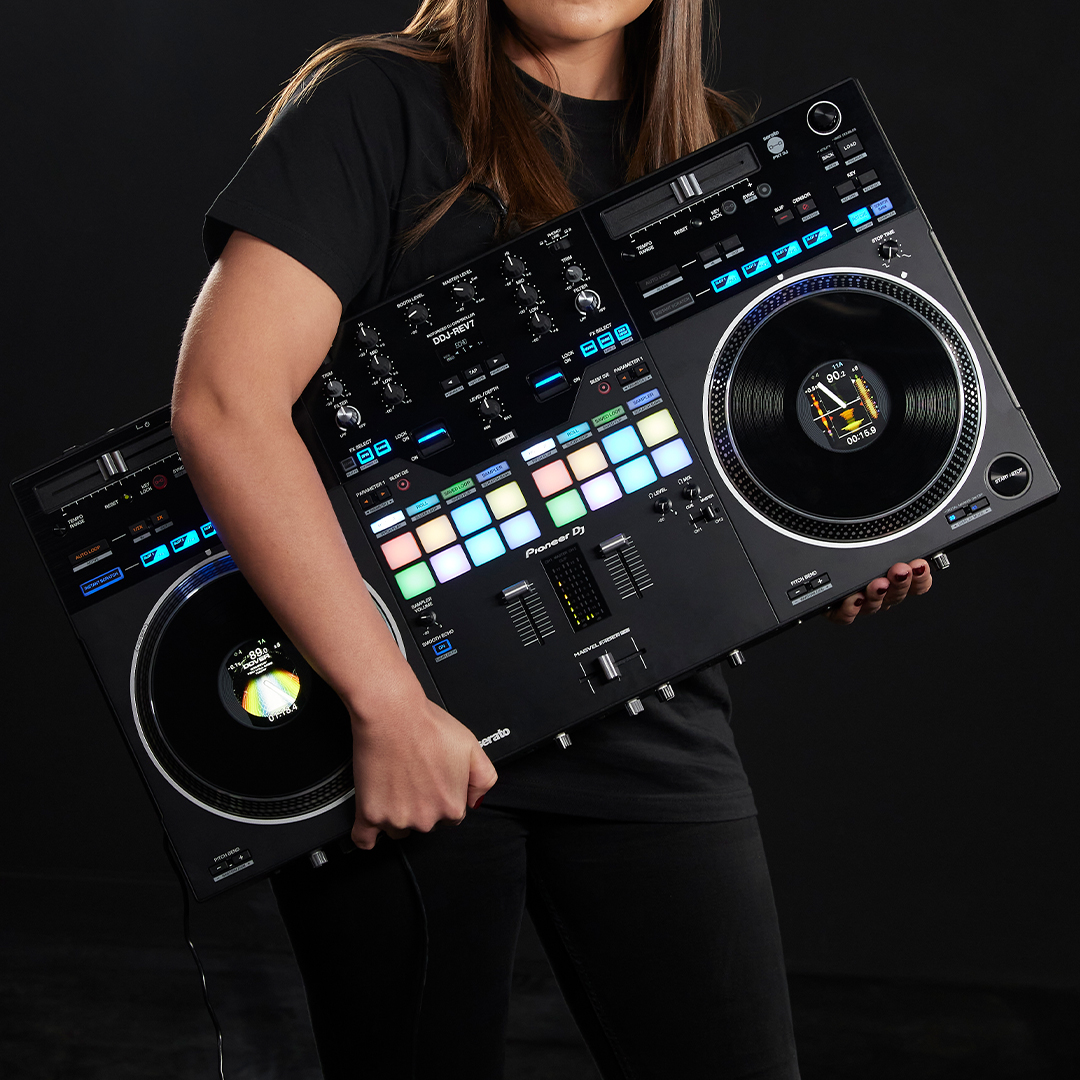 Combo Pad Mode
Use 2 different pad modes at the same time. They'll be split between the pads on that deck, and you can choose from the Hot Cue Roll, Saved Loop, and Sampler modes.

USB Type-C
Connect your PC/Mac directly to the controller's USB Type-C terminal with a single cable.

Performance Pads
Hit the 8 back-lit rubber Performance Pads to trigger Hot Cues, Pad FX, Beat Jump, and the sampler.

Pitch 'n Time DJ
A voucher for the Serato Pitch 'n Time DJ Expansion Pack is included, which enables key shifting and key syncing with perfect audio quality.

Firmware Update Manager


You'll be automatically notified when firmware updates become available. You can download the Firmware Update Manager 

here

.